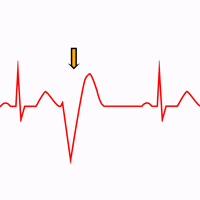 Premature ventricular complexes (PVCs), also known as premature ventricular contractions, ventricular premature beats (VPBs) or ventricular extrasystoles, are ectopic impulses originating from an area distal to the His-Purkinje system.
Premature ventricular complexes are the most common arrhythmia observed in patients without structural heart disease 1.
PVCs are characterized by the premature occurrence of a wide QRS complex that is bizarre in shape.
The wide QRS complex is accompanied by secondary ST segment and T wave changes and a full compensatory pause.