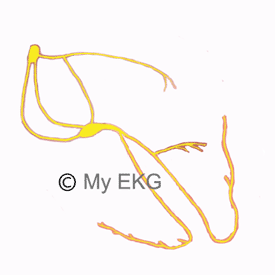 The conduction system of the heart are the structures where the electrical stimulus, that allows the contraction of the heart, is generated and transmitted.
Its main components are the sinoatrial node (sinus node), the atrioventricular node (AV node), the bundle of His and Purkinje fibers.
In a normal beat, the electrical impulse is spontaneously generated by the sinus node, from where it spreads to both atria, causing the atrial contraction.
Through preferential pathways the impulse reaches the AV node, where it is delayed, and then is transmitted to the bundle of His. Through the two branches of bundle of His, the electrical stimulus is spread to the entire myocardium by the Purkinje fibers.
Cardiac Conduction System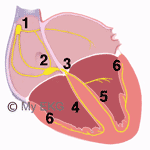 1. Sinus node
2. Atrioventricular node
3. Bundle of His
4. Right bundle branch
5. Left bundle branch
6. Purkinje fibers