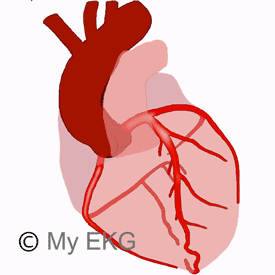 The coronary arteries are the arteries in charge of nourishing the entire heart. Their name comes from the Latin word coronarĭus, which means in the shape of a crown, due to the wat that they surround the heart.
There are two coronary arteries, the right coronary artery and the left coronary artery which emerge from the ascending aort, from the right and left aortic sinuses respectively.
The left main coronary artery has a short common trajectory, branching into the left anterior descending artery and the circumflex artery.
This is why the coronary system is usually considered a system with three major arteries, the left anterior descending artery, the circumflex artery and the right coronary artery. They are important in the diagnosis of ischemic heart disease.