300, the Heart Rate Magic Number
On a normal electrocardiogram, there are five large squares per second and 300 per minute. Knowing this, we can calculate the heart rate measuring the R-R interval, providing the rhythm is regular.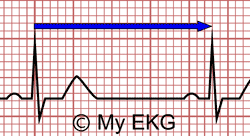 Heart rate: 4 large square = 75 bpm
On the EKG, locate a R wave that matches a thick line, count the number of large squares to the next R wave. Heart rate is 300 divided by the number of large squares, and that's it!
For example: if there is 1 large square between R waves, the heart rate is 300 bpm; two large squares, 150 bpm, three large squares, 100 bpm, four… 75 bpm.