Classification of Interatrial Block
Bayés et al. defined interatrial block as a conduction delay between the atria in the zone of Bachmann's bundle, with P wave duration ≥120 ms.
Interatrial blocks can be classified as partial or advance block. They can also be classified as first, second or third degree 1.
First degree corresponds to partial interatrial block and third degree corresponds to advanced block. Second degree block is not included in the previous classification 1 2.
EKG Diagnostic Criteria for Interatrial Blocks
Partial Interatrial Block (First degree)
In partial interatrial block the electrical impulse is conducted from the rigth atrium to left atrium through the normal propagation route but with a delay at the Bachmann's bundle region 1.

Partial interatrial block:
Wide and notched P wave.
P wave duration ≥ 120 ms, and is usually bimodal ("notched") in leads I, II, III and aVF, and sometimes in leads V4-V6.
The P wave electrical axis is normal.
In the presence of partial interatrial block, left atrial enlargement is relatively common. In fact, it has been considered that the wide and bimodal P wave of left atrial enlargement is better explained because of underlying interatrial block than the longer distance that the impulse has to go across 1.
Advaced Interatrial Block (Third degree)
Advanced interatrial block is an infrequent (approximately 1 percent of patients with valve heart disease) but a very easily recognizable EKG pattern 3.
P wave duration is ≥120 ms.
P wave morphology in inferior leads (II, III, aVF) is biphasic or "positive-negative".

Advaced interatrial block:
Wide and biphasic P wave in inferior leads.
Sometimes, the initial positive component of the P wave on inferior leads may be very small mimicking a completely negative P wave, suggesting a junctional rhythm. However, the P wave is sinus because the positive polarity in the other leads especially V5-V6, confirms the sinus origin.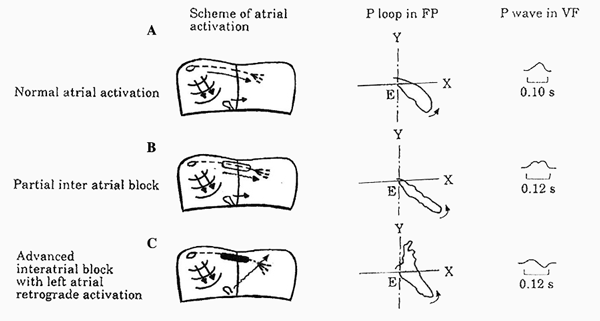 Atrial activation of interatrial blocks
Image courtesy of Dr. Bayés de Luna.
A P wave with a negative final component in lead aVF is required to diagnose advaced interatrial block (previous image), because left atrium has a retrograde activation.
Second Degree Interatrial Block
Similarly to the AV blocks or sinoatrial blocks, interatrial block may occur transiently on a beat-to-beat basis.
The P wave may show transient morphology changes in the same EKG recording from normal morphology to interatrial block pattern or from partial interatrial block to advanced interatrial block pattern or viceversa 1 3.