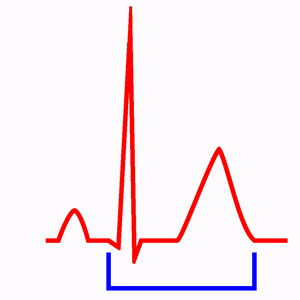 The QT interval is measured from the beginning of the QRS complex to the end of the T wave. It represents the duration of ventricular electrical systole (ventricular depolarisation and repolarisation).
The QT interval includes the QRS interval, the ST-segment and the T wave.
The U wave must be excluded from the QT interval measurement. Inclusion of such U waves can easily "inflate" the QTc by 80–200 ms and unnecessarily precipitate a diagnosis of long QT syndrome 1.