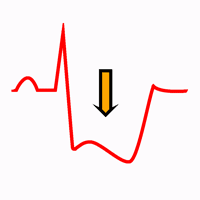 Non-ST-elevation acute coronary syndromes (NSTE-ACS) are the most frequent acute coronary syndromes 1.
NSTE-ACS can be further subdivided into unstable angina and non-ST-Elevation myocardial infarction (NSTEMI). Both forms of coronary artery disease usually have lower in-hospital mortality than STEMI.
In each patient with NSTE-ACS a risk assessment should be performed, because every patient is different.
As in ST-segment elevation myocardial infarction, is usually the result of coronary artery occlusion related to atherosclerotic plaque rupture, ulceration, fissuring, erosion, or dissection with resulting intraluminal thrombus in one or more of the coronary arteries 2.