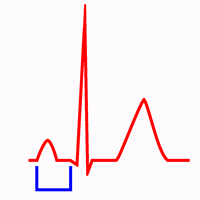 The PR interval is measured from the beginning of the P wave to the beginning of the QRS complex. It comprises the P wave and the PR segment.
The interval should be measured in the lead with the largest, widest P wave and the longest QRS duration 1.
The PR interval includes the atrial depolarization and the propagation of the impulse through the AV node and the Conduction System until the ventricular myocardium begins to depolarize 1.
It does not include the duration of conduction from the Sinus Node to the right atrium (Sinoatrial conduction).
The PR interval also includes the atrial repolarization (atrial T wave), which is directed opposite to the P wave axis, but atrial repolarization usually has low amplitude and the PR segment is frequently isoelectric 1.