When the electrical stimulus from the AV node is not conducted by the left branch, a complete left bundle branch block (LBBB) occurs.
This interruption of the impulse must arise before the subdivison of the left branch, because the injury of a single fascicles causes a left fascicular block.
If both fascicles of the left branch are affected, left bundle branch block also occurs.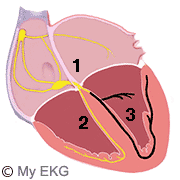 Left Bundle Branch Block
1. Atrioventricular node and bundle of His.
2. Normal right bundle branch.
3. Blocked left bundle branch.
In this condition, the electrical stimulation depolarize the left ventricle abnormally, because it is only conducted by the right branch.
The stimulus initially depolarized regions dependent on right branch (right ventricule and right third of the interventricular septum).
Then, the stimulus passes through the myocardium towards the left ventricle, increasing the time of ventricular depolarization (wide QRS complexes), resulting in abnormalities in the electrocardiogram.